Encanterra Team
Our inspiration is to make Encanterra the premier private club experience not just within the narrow confines of Phoenix, but of all Arizona. Our people share your passion for golf and wish to do whatever possible to bring your game to a higher level. They're gurus, teachers, managers, and yes, they also mix a mean mojito over at the Club.

For information on joining the team at Encanterra, visit BlueStarGolf.com.

The current Encanterra Team includes:


Kirk Kokoska, Club Manager
Kirk Kokoska has more than 25 years of experience within the golf industry. During his career, he has performed a wide variety of roles, all with tremendous success. His diverse resume includes numerous achievements which reflect both his passion and tenure. In 2002, Kirk was named among the "40 under 40", an award from Golfweek magazine that recognizes the 40 most influential and innovative people in the golf industry under the age of 40. Additionally, he was named one of golf's "Most Admired Operators of 2008," and one of its "Movers & Shakers of 2006" by Golf Inc magazine. Kirk is a 15-year member of the PGA of America, and a Board Member and Treasurer on one of golf's strongest state-level lobby groups, Arizona's Golf Industry Association. He lives in Scottsdale and is a alumnus of Arizona State University.


Mark J. Black, Director of Golf
Originally from Frankenmuth, Michigan, Mark is a PGA Quarter Century Member and Master Professional, a designation given to just 2% of all PGA members. Mark has vast experience at both private and public courses, as well as resort courses. He even owned his own golf course at the young age of 25. Mark played in two PGA Tour events, most recently in 2006. He has also conducted numerous playing workshops for PGA members, helping them improve their golf games. Mark is also a member of the PGA of America's Education Team and presents seminars and workshops for apprentices. Mark and his wife Nancy have three children - Emily and her husband Jason, who live in Naperville, Chicago; Benjamin and his wife Karrie who live in Milwaukee, Wisconsin; and Reed who will be graduating from ASU in April of 2012.


Scott Anderson, Superintendent
With more than 10 years as a top golf course superintendent, Scott's career has included stays at such renowned clubs as Raven at South Mountain and Seville Golf & Country Club.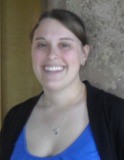 Lisa Rich, Membership
Lisa Rich has been a member of the Encanterra Country Club team since 2014. Most recently, she worked for University of Phoenix as an enrollment advisor. She holds a Bachelors of Arts in Journalism from the University of Arizona and has worked in customer service for many years.
For membership information, please contact us by email at membership@encanterra.com or by phone at (480) 677-8000.